Proceeds from the book go to fund Fighting to Understand 501(c)(3)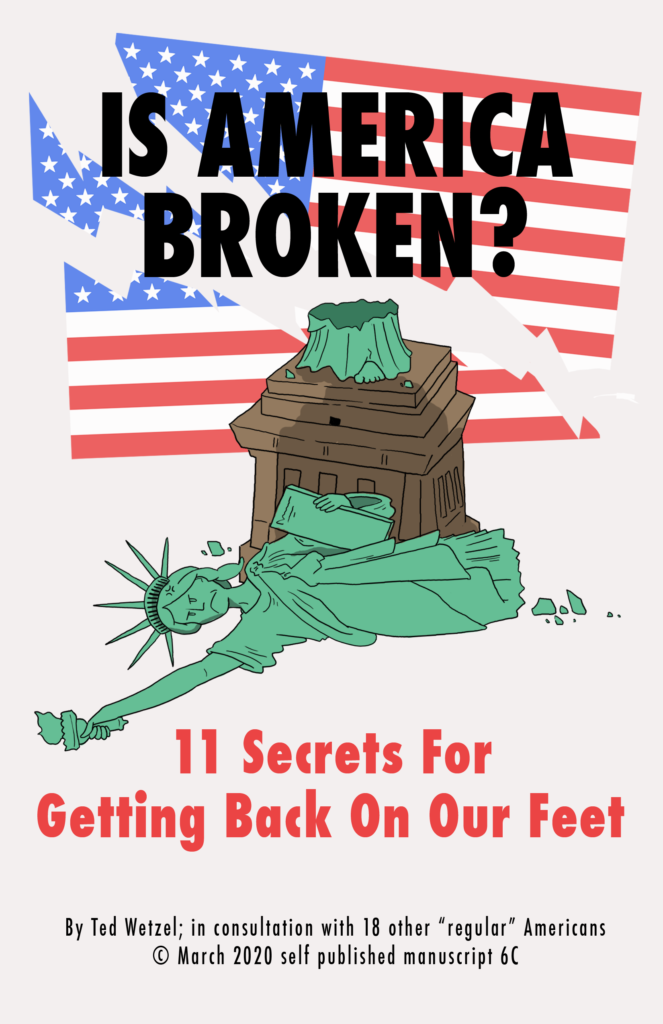 From 19 "regular" Americans to ALL Americans: what would you find if you could search full-time to answer, "Is America Broken?" We did, and here are the 11 "secrets" we uncovered. Not political mumbo-jumbo, and not secrets that have been withheld – but rather secrets that are hidden in plain sight.
Is America broken? You be the judge. In the first 4 Secrets, we introduce you to the not-so-hidden problem. By the end of Secret 11, a solution takes shape, with action steps. Good news – it's not partisan, and it's not rocket science! And with COVID-19 we need it more than ever.
We love this country – and we can do something to help hand over the best of America to our youth. If after reading Is America Broken?, you agree, then you can choose from dozens of actions that can move us forward.
Table of Contents
Introduction: Is America Broken?
Problem Space – Yes, We can Understand.
Secret #1: Don't Freak Out (we've been divided before).
Secret #2: Don't Check Out (you are needed). 
Secret #3: We Dwell on the Differences. (We actually agree on a lot.)
Secret #4: Government 1.0 Has Been Brain-Dead. 
Solution Space – Hope for the American Experiment.
Secret #5: The Paradox of "Going-it-Alone."
Secret #6: Freedom Was Never Free. Getting Warmed Up.
Secret #7: Grand-pa-ma Was Right About Good and Bad.
Secret #8: They Work for Us. Are We Good Bosses?
Secret #9: The S-word. Spiritually Rooted in We. 
Invitation – You Belong – Many Hands Make Light Work.
Secret #10:  Yes, You!  There are EZ Ways to Get Started.
Summary:  From We The People of 1776 to We The People 2.0.
Secret #11:  How to be We.  The Emerging Grassroots. 
Appendix A:  Says Who?  From 19 Regular Americans.
Appendix B:  More on Happiness.    
Appendix C:  Are we Good or Bad at Our Roots?
Appendix D:  Double Check Your MATH.
Appendix E:  More on Divided or United Religion.