Action Step: Explore The Grassroots Search Tool
(I want to find my passion)
Get ready to explore the 5 Grassroots Areas and pick the action that fits your passion.
Consider this introduction video

Understand and rest easy that the 5 Grassroots Areas form a whole game plan. This means that it is OK if you only have passion for a certain area.

Ask yourself: Where are your patriot passions leaning today?
- Grassroots 1: We are in this together (Examples: k-12 civic education, adult dialogue, community service, and more)
- Grassroots 2: Unrig the game (Examples: join a movement to improve voting laws, or campaign finance, gerrymandering, and more)
- Grassroots 3: Voice of We The People, Harmonized (Examples: join a citizen cabinet group to give balanced issue input, or work on candidate evaluation processes, or join a Be A Better Boss feedback loop to our servant leaders)
- Grassroots 4: Create New Democracy Tools (Examples: join a team to build a democracy portal, or Confident Conflict skills for Americans, and more)
- Grassroots 5: Encourage Future Servant Leaders (Examples: how we identify future servant leaders and how we help to form them to serve)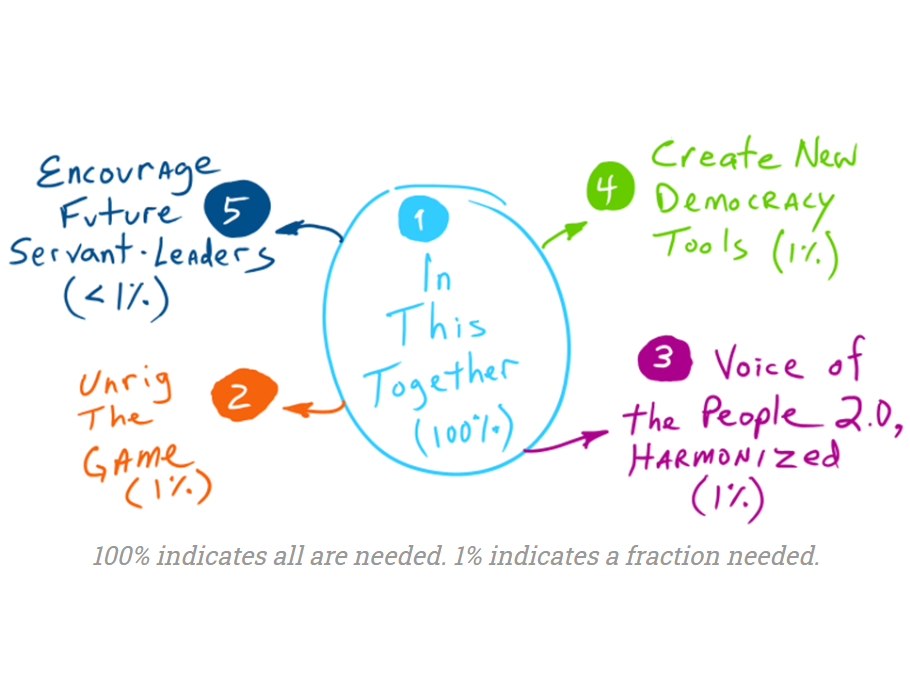 Go a little deeper into the area of your passion. Using the tool below, click on GR1, 2, 3, 4, or 5, to expose the more specific areas that new patriots are already investing themselves into. Read up on a group or initiative that grabs your interest. Check out their website or social channels. Imagine that you could join that team! How could your passion help them further their mission?
Due to the cascading nature of the search tool, it works best on larger screens.

Has one of the specific grassroots added fuel to your passion? Don't lose track of what you've discovered so far. Send us (and yourself) an email to mark this spot that you've discovered. Or, if you are ready, then reach out to that group to get involved! Let us know if you need help connecting with a group.
Try to keep the ground rules in mind as you engage with these groups.
Send an exploration email to yourself and to Fighting to Understand.